Be prepared to get lost on a fantastic adventure. Inside our 3+ Acre Giant Maize Quest® Corn Maze, you will find twisting pathways, questions and answers, and picture rubbings. It's a maze, it's a game, it's educational, and it's FUN! Spend quality time together with your family, friends, or group sharing experiences. The maze is the ultimate experience because you are lost and must work through the challenge together. This will allow you to share the victory together. Also, don't miss out on our special Flashlight Nights in the maze! Bring your own flashlight!
Sign up for our mailing list and get $1 OFF regular admission >
2017 Corn Maze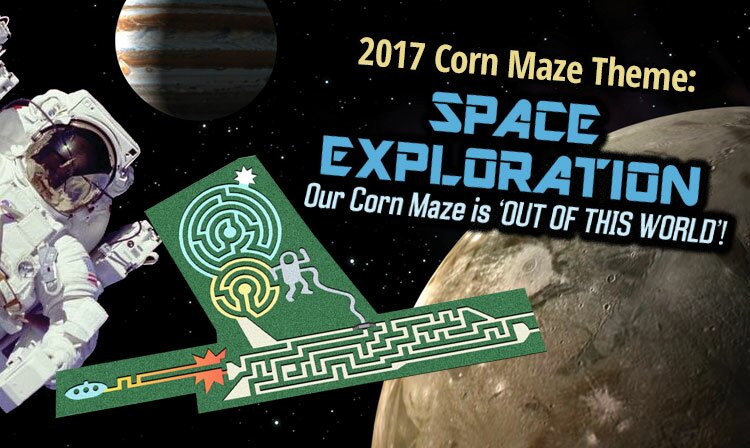 Each year, we feature a new and exciting theme in the corn maze. This year's maze theme is "Space Exploration!" Journey into the final frontier of space as mankind reaches out to the stars. As you travel through this year's corn maze, discover highlights of space exploration and fun facts about life in space!
Beauty & the Bees Fairy Tale Trail©


New! Kids can experience a magical and educational time with this timeless fairy tale adapted to the agritourism industry to help teach children about farming in a fun (and healthy!) manner. Beauty's budding relationship with the beekeeper introduces children to the vital role that bees play on the farm and reminds us that sweetness can "bee" found where we least expect it. Books are available for purchase. One book is included FREE with each booked school tour when this option is selected. Lesson plans and activity sheets also provided.
Flashlight Nights in the Maze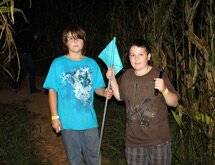 Do the maze in the dark!
For a totally different maze experience, come for our special Flashlight Nights on select dates during the fall season. Parents, don't worry, there's nothing scary at C&C Reading Farm at night. We don't do scary, we just do FUN!
PLEASE NOTE: Some attractions close after dark.
See Flashlight Night date(s) and other special events >
Corn maze & attractions hours >
Admission info >
View other attractions >
Corn Maze Rules
No Alcohol allowed anywhere on the farm
Do not run in the maze.
Do not smoke in the maze.
Do not break the ribbon.
Do not cut through the corn.
Do not pick the corn.
Do not use foul language.
No pets are  permitted in the maze
Past Mazes
2016 Corn Maze – The 2016 maze theme was "Wizards and Dragons!" Visitors could enter our magical, make-believe world and look for stations in the maze to answer questions and uncover drawings about wizards and dragons.
2015 Corn Maze – The 2015 corn maze theme was "Dinosaurs!" Visitors could search the remote past when thunder lizards roamed the earth and explore all the ages of dinosaurs that spanned millions of years to the ultimate extinction of these giants.
2014 Corn Maze – The 2014 corn maze theme was "Pirate Adventure!" Visitors took to the high seas of the Golden Age of Piracy to discover the history and surprising customs of pirates of the Caribbean. Explorers found pirates and their flags within the maze. The design featured a pirate ship at sea and a desert island.
2013 Maze – "Rainforest" Corn Maze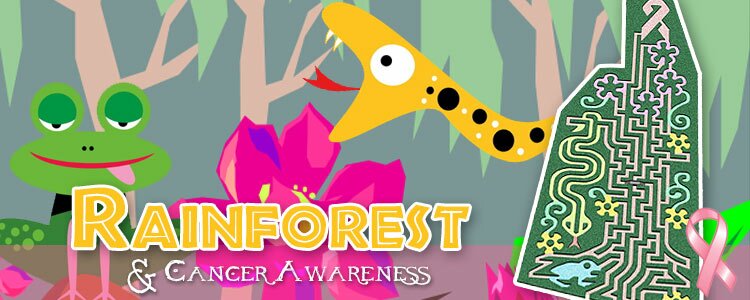 2012 Maze – "Buy Fresh Buy Local" Corn Maze